The 'kick off meeting' is where companies (STEM Ambassadors) are paired with schools and they can then start to discuss what type of project to run and when to meet etc. The venue is Cafe Elvira, Borde Hill Gardens, Haywards Heath, West Sussex RH16 1XP at 4:30pm on the 3rd May 2018.
This year's science week will allow Children the opportunity to work with a local business representative and learn about how they use STEM subjects in their everyday activities.
Judging Process:
• Impartial judges will work in pairs and judge several projects
• ​Each project will be judged multiple times
• ​There are a total of 25 marks available
Judging Criteria:
• Research
• Understanding
• Communication skills
• Originality
Another successful Science Week
We were delighted to see nine schools represented, producing an array of inventive projects to an extremely high standard showing presentation, design skills and originality.
Best Project Winners 2018 – Lindfield Primary Academy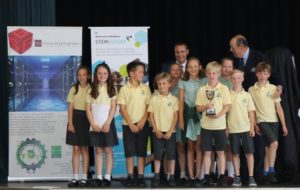 They received their trophy from Sir Nicholas Soames MP and Mr Philip Todd, STEM Ambassador.
Schools were given an added challenge, to design and build a bridge that would support the weight of a bottle of water using the least amount of materials. The ultimate test, to ensure the bottle stays upright and in place for 5 seconds without the structure collapsing while in the judging test area.
Design Challenge Winners 2018 – Harlands Primary School